Scotia Physiotherapy is the oldest independently-owned physiotherapy clinic in Halifax, Nova Scotia.
Staff at Scotia Physiotherapy are devoted to ongoing professional development and are leaders in providing continuing education to others within their profession.
Our values are, patient-centred Quality care, professional Integrity, and Expertise, within a collaborative environment. We strive to get people in quickly and treat them effectively and efficiently, with empathy and compassion for the many ways in which people experience physical difficulty. Because, We Care.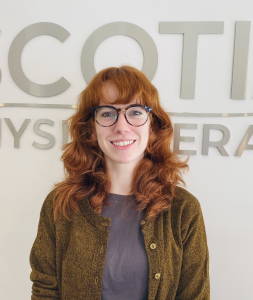 Our physiotherapists have extensive post-graduate training including:
Manual and manipulative therapy
Sports physiotherapy
Acupuncture and dry needling
Concussion management
Treatment of the jaw complex ("TMD")
Specialized exercise training
Vocal Physiotherapy
Our massage therapists have extensive post-graduate training including:
Deep tissue techniques
Sport massage therapy
TMD massage (intra- and extraoral)
Myofascial release
Pre- and postnatal massage
Dynamic cupping
Graston technique
Lymphatic drainage
Our osteopath has extensive training including:

Osteopathic manual therapy
Kinesiology
Exercise Physiology
Strength & Conditioning 


Our therapists practice what we preach and prioritize physical fitness – we understand how it feels to be limited by injury or pain!
Alison Beaton
PT, MClSc, FCAMPT, Diploma Sports Physiotherapy
Read More
Cynthia Murphy
PT, FCAMPT, BScPT, MCPA
Read More
Jennifer Wade
PT, BScKin, MScPT (she/her)
Read More
Dawn Hanifen
BScPT
Read More
Emily Coolen
PT, BScKin
Read More
Jacob Halloran
PT, BSc Medical Sciences
Read More
Rachel Rubin-Sarganis
PT, BSc Medical Sciences
Read More
Michael Ritchie
Scotia Physiotherapy Emeritus


Carolynn MacLennan
R.M.T., BScHK
Read More
Erin Sutherland
RMT
Read More
Craig MacDonald
DOMP, MSEd, BKin, CSCS
Read More
Brian Crouse
B.Sc, RMT
Read More
Jessica Corfield & Lauren Powell
Administrative Assistants